| | | |
| --- | --- | --- |
| | Main Menu | |

| | | |
| --- | --- | --- |
| | Gallery Options | |





TODAY MAG NOV 11 1961 CLAUDIA CARDINALE BRUCE FORS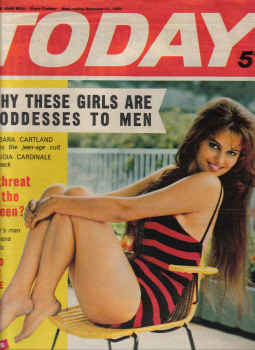 £18.00 + P&P

TODAY MAG NOV 11 1961 CLAUDIA CARDINALE BRUCE FORSYTH

IDEAL GIFT / FRAME IT.

This is TODAY magazine dated Week Ending November 11th 1961 with CLAUDIA CARDINALE on the front cover - inside \\"WHY THESE GIRLS ARE GODDESSES TO MEN\\", \\"BARBARA CARTLAND ATTACKS THE JEAN-AGE CULT/CLAUDIA CARDINALE HITS BACK\\". Also in this 28 page issue:-

A TOMB OF ICE BY BOB BRISTOW - ILLUSTRATED BY LEONARD.

BRUCE FORSYTH\\'S FAMILY ALBUM - A ONE AND A HALF PAGE FEATURE INCLUDING 16 PHOTOS.

BEAUTY IN MY STUDIO BY NICHOLAS EGON.

The magazine is intact in marked/lightly creased covers - a three and a half inch strip cut from bottom outside corner margin of back cover - bumped/worn corners - some marking/creasing throughout but I class this item as being in reasonably fair and collectable condition.

Anyone living within visiting-distance of the shop is very welcome to call and inspect any item, at any reasonable time - please telephone first. For those unable to visit, you are welcome to email with queries.

TERMS

PAYMENT

UK
NOCHEX or GOOGLE CHECKOUT.

OUTSIDE UK
We will accept only GOOGLE CHECKOUT ... GOOGLE CHECKOUT ONLY.

All prices quoted are in UK Pounds Sterling.